Greenhouse Kit FAQs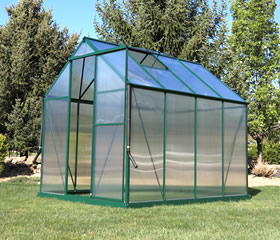 At Epic Greenhouses, we are greenhouse gardening experts. We always strive to give our customers the information that they need to make an informed deciscion. This list is an overview of the most common questions we are aked when talking to greenhouse gardeners. If you would like more advice on gardening in your greenhouse, check out our learning center.
Where do I set up my Greenhouse?
When deciding where to put your greenhouse, think about how your greenhouse will best fit in with your home's landscaping, what kind of exposure it will have to sunlight, wind and weather, your convenience of access and the physical ease of construction and installation. For sun exposure, generally a southeasterly exposure is best for gardening, with east, south, then west exposures following in that order. Adequate natural light is essential for successful greenhouse gardening, although it is possible to supplement with artificial lights. For solar heating, a southerly exposure is best.
How does the greenhouse ship to me?
Our greenhouses are usually shipped via UPS Ground or LTL Freight, depending on the greenhouse you order, in 2 or more manageable-sized boxes (the exact number of boxes depends on the size of your greenhouse).
When will my greenhouse arrive at my front door?
Delivery times typically vary between 1 and 2 weeks from the time you place your order. There may be occasions, depending on your location and seasonal demands, when your greenhouse may arrive sooner than this or slightly later, but every effort is made on our part to ship as quickly as possible and keep our customers informed if there are any issues that may cause any delays in shipping.
What payment methods do you accept?
We take all four major credit cards (Visa, Mastercard, American Express, and Discover), Paypal, money orders, checks, and Purchase Orders from schools, universities, and approved government institutions. Please note that if you are paying via check or money order we will not ship until the funds have cleared.
I'm purchasing a greenhouse for a school. What payment methods do you offer?
In order to help facilitate greenhouse purchases by Public Institutions (schools, universities, colleges, and other government agencies) EpicGreenhouses.com is now offering 30-day terms without any pre-approval of credit. All we need is a valid purchase order, and your order will be processed once that has been received.
You may fax your authorized purchase order to 208-898-9518, or mail it to:
EpicGreenhouses.com
Backyard Living Source, Inc.
9543 W. Emerald St. #101
Boise, ID 83704
We are also more than happy to accept money orders, checks, and purchasing/procurement cards issued by Visa, Mastercard, Discover, or American Express. If you have any questions or concerns, please call us.
Can I finance my greenhouse purchase?
Yes! We offer a couple of different financing options for purchasing your greenhouse. We offer flexible layaway payment plans (call us to set one up), or financing through Bill-Me-Later (No Payments + No Interest if paid in full within 6 months on purchases of $99 or more.) If you would like to use Bill-Me-Later, simply add your products to our shopping cart, then select Paypal as your payment option during the checkout process. Once that is done you will be directed to Paypal's website to complete the purchase where you will have the option to use Bill-Me-Later as a funding method.
Do you ship greenhouses to Canada, Alaska, or Hawaii?
Yes! We are happy to ship greenhouses to our customers in Canada, Alaska, and Hawaii, although additional shipping fees may be required. Please call us to arrange orders to these locations.
Who is charging my credit card?
EpicGreenhouses.com is a subsidiary of Backyard Living Source, Inc. When you purchase products from this website "Backyard Living Source" will appear on your bank statement.
I tried to place a credit card order but was declined because of "error 2". What is this?
An "error 2" code means that your transaction was declined due to a bank preset transaction limit on your credit card. What typically happens when this error occurs is that the credit card issuer has a preset limit on your account for a single transaction (such as $1000 or $2000 per transaction). When a transaction larger than the preset limit is attempted the order is declined.
To resolve this you simply need to call your credit card issuer/bank and ask them to approve the transaction and/or raise your transaction limit. They usually have no problem doing this and it is a fairly quick and simple process. Once they have done that we can run the transaction again. If you have any questions or concerns about this, please feel free to call us at our toll-free number.
Best greenhouse on a budget?
The Grandio Ascent is our top pick for an affordable greenhouse kit. The 6mm twin-wall panel system allows for optimal sunlight exposure, and the heavy duty frame is extremely strong for the price.
Best cold climate greenhouse?
Any size of the Riga Greenhouse or the Grandio Elite. The unique shape of the Riga greenhouse prevents snow from building up, and on the Grandio Elite the super thick 10mm panels keep the greenhouse well insulated. The Juliana Premium line is also great for cold climates.
Is there a greenhouse small enough for my apartment balcony?
Having a small space doesn't have to keep you from gardening. For very small spaces check out cold-frames. A cold-frame works just like a greenhouse but on a miniature scale. They are perfect for apartment and condo balconies. Or for homeowners who need a place to keep their potted plants warm during cool nights.
Gardeners can grow their plants in the cold frame, or if you container garden, you can move the potted plants in and out of the cold frame as needed.
Any good small greenhouses for small yards?
The Grandio Element 6'x4' is a great choice. It gives you lots of space for growing, especially if you add shelves, without taking up a huge footprint of your small yard.
What greenhouse can attach to a home?
Several greenhouse companies make a sunroom or lean-to option. These are greenhouses that attach to the house. They can be used as an extra room of the house, used to grow plants and/or used to enclose a deck or patio.
Rion makes a great sunroom greenhouse kit. You can choose between opaque or clear panels which is nice depending on your privacy preferences, or if you want direct sunlight or filtered light.
Why is greenhouse panel thickness important?
Greenhouse panels range in thickness from 1mm to up to 10mm. The thicker the panel the more insulated the greenhouse will be. For instance 10mm paneled greenhouses were made to be year round greenhouses, even through harsh cold, snowy winters (with the assistance of heaters and other warming mechanisms of course).
If you live in a moderate climate, the thinner panels might be fine. Or if you only plan to use your greenhouse spring through fall, the thinner panels will also be fine.
The colder the climate you live in, the thicker you'll want the panels. Or if you want to ensure you can grow year round, you'll want the thicker panels. Although generally, the thicker the panels, the more expensive the greenhouse becomes.
How large should my greenhouse be?
Select a greenhouse as large as your site and budget will allow. Greenhouse gardeners inevitably wish they had more space to accommodate their growing plants. Again, adequate height is important for your comfort as well as providing room for shelves and hanging plants. Additional growing space can be provided with a shorter base wall that allows for more under-shelf growing space as well as shelves along the walls.
Will a greenhouse save me money?
Greenhouses are a great way for many gardeners to save money. With a greenhouse, gardeners can overwinter many of their favorite plants, reducing the number that they buy at expensive nurseries. While some gardeners easily start their plants from seeds in order to save money each year, other gardeners appreciate the fact that they can grow their own nutritious food instead of purchasing it. However, for many gardeners, their greenhouse hobby soon develops into a small greenhouse business.
For many enthusiastic gardeners, it is easy to get carried away and end up with more plants than they even have a use for! While these plants of course make wonderful gifts, they are also easy to sell. In fact, some ambitious gardeners have been able to pay for their entire greenhouse in a single season by selling their seedlings. Plants such as tomatoes and peppers are especially popular choices among buyers. Also consider growing pots of flowers that can be sold for Easter or Mother's Day. Some people choose to sell their plants from home, but others have had success selling at farmers' markets or other local gatherings. To begin with, you could simply dedicate a small portion of your greenhouse towards plants to be sold at an upcoming garage sale.
While purchasing a greenhouse is initially a big investment, it is important to remember that it certainly has its pay-offs. In addition to the pleasure it brings to your life, it can also pay for itself in time by helping you to save money on your favorite plants. If you are fortunate enough to have the time and space, consider turning your hobby into a small business that will make your greenhouse gardening experience an even bigger success.
Do I need a building permit for my greenhouse?
Greenhouses tend to be in a building code "twilight zone". Local codes and code interpretations vary greatly between counties and even between individuals within the same department! Compliance is the responsibility of the buyer. Generally we have found that a free standing greenhouse with a size of less that 120 sq.ft. usually does not require a permit. Lean-to Greenhouses attached to a wall of the house or garage, even if they are less that 120 sq.ft., are sometimes considered living space and subject to stricter rules. Getting a permit can be as simple as providing basic greenhouse plans and as complicated (and expensive) as having a state licensed engineer approve the plans. Should you choose to obtain a permit it is best to get it before placing a greenhouse order in case there are changes that need to be made to comply with codes. We will do our best to help you through this process.
What different greenhouse types are available?
There are many different choices for greenhouse styles. A Lean-to greenhouse is attached to the wall of a building; often a convenient structure for access from the house and easier to heat because one side is a solid wall. A free-standing greenhouse stands on its own and can be located almost anywhere. The glass sides of the greenhouse can be tall or short depending on your growing and storage needs. A bench-high base wall (or knee wall) provides for storage space under the benches and the greenhouse will be easier to heat because the base wall can be insulated. A shorter base wall allows for light under the benches for more growing space (keep in mind this lower space can be awkward to get to) and maximum solar heating. When purchasing a greenhouse, it is important to be aware of the total height of the greenhouse to be sure it is adequate for you and your plants. You'll easily be able to find a greenhouse to suit your needs.
What accessories are recommended in the greenhouse?
Circulating fan: Air movement is essential for a healthy greenhouse environment and helps to reduce heating costs and condensation. We recommend continuous, gentle air movement 24/7 provided by an oscillating fan or quiet re-circulating type fan.
Heater: Type and size of heater needed depends of the size of the greenhouse and the inside and outside temperatures involved. Gas (natural or LP, vented or non- vented) or electric (120V or 240V) heaters can be used. To make a 120V heater more effective add an additional thermostat to turn the heater on and off at specific temperatures.
Coolers: In very hot climates sometimes positive cooling is needed. Air conditioners should not be used because they de-humidify the greenhouse. Nature's most efficient means of cooling is through the evaporation of water. Evaporative air coolers work by drawing hot air through wet pads using a fan or blower. Water evaporates from the pads, providing cool, clean, humid air.
Humidifier or mister: Plants need adequate humidity when greenhouse temperatures move up. Generally, wetting down a porous (bricks, gravel) floor periodically is the easiest method for creating humidity. An automatic humidifier or a misting/fogging system may be used if additional humidity is needed.
Shading: The need for shading depends on sun exposure and plants being grown. Ways to shade include shade cloth, shading paint, roll-up shades and fiberglass panels. Custom-fit shade cloth panels can be added to all or part of the greenhouse. Attached to the outside of the greenhouse, they are effective, neat in appearance, easy to use, economical, reusable and available in a variety of densities.
Propagation Mats: With good bottom heat, propagation is easy and fast, even in a cool greenhouse. Propagation mats are great for supplying heat to plants in containers, seed flats, etc.
Shelves & Benches: To maximize efficient use of your greenhouse, some type of benches and/or shelves will be needed. Many options are available and will depend on the size and style of your greenhouse.