Best All-Around Greenhouses
---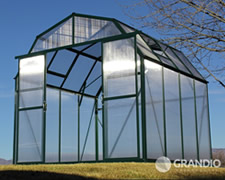 Grandio Elite Greenhouse
With sizes that range from 8x8 up to 8x24, this beautiful barn-style greenhouse gives you a year-round growing space in an attractive, heavy duty aluminum frame and 10mm twin-wall panels. Engineered to perform in harshest environments with standard high-strength frame and additional roof truss and snow load supports. The Grandio Elite's rugged durability, makes it the most insulated of the greenhouses on the market and it's barn shape design with an 8' tall roof peak makes it both elegant and functional, and allows plenty of growing space.
---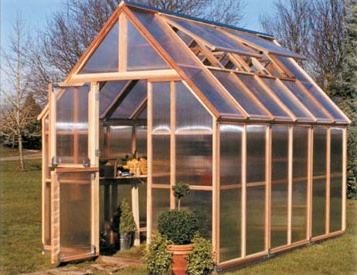 Sunshine Mt. Hood Greenhouse
Sunshine Mt. Hood greenhouses are gorgeous redwood kits that are just as functional as they are attractive. They are six feet wide with plenty of headroom at 8'4" tall at the peak. Narrow enough to fit in a limited space, each kit is made with a clear natural redwood frame, twin wall polycarbonate and includes two vents with automatic vent openers, Dutch doors and a base made with recycled plastic. If you are not sure which size is best you can extend the both the 6' x 4' and 6' x 8' model at a later date by four feet with our extension kit.
---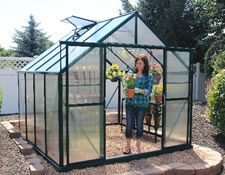 Grandio Ascent Greenhouses
This beautiful hobby greenhouse is a matchless choice for both the hobby and professional gardener. Engineered to perform in the harshest environments. Rugged reliability, low cost of ownership and accolades from reviewers are just a few of the reasons why Grandio Greenhouses is winning over the world's toughest users. Featuring 6mm twin-wall polycarbonate on all sides and roof, plus a free base kit, rain gutters, snow load supports, and two roof vents, Grandio Ascent Greenhouses are a fantastic value for both beginning greenhouse gardeners and seasoned experts alike.
---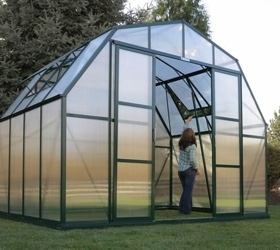 Grandio Summit Greenhouses
The largest of the Grandio models, the Summit is a beautiful barn-style greenhouse that is 12 feet wide, over 9 feet tall, and available in sizes from 12x8 up to 12x32. The Summit greenhouse is perfect for the serious home gardener, for schools and educational institutions, or for light commercial applications. Features include an extremely heavy duty aluminum frame with extreme weather / snow load supports, 10mm twin-wall panels all around, lockable doors, multiple included roof vents, and much more!
---