Best Cold Weather Greenhouses
Take a look at our picks for the best cold and extreme weather greenhouse kits. These are highly recommended if you need a greenhouse that can withstand high winds, heavy snow loads, severe temperatures, or other harsh gardening conditions.
---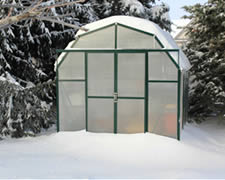 Grandio Elite Greenhouse
This beautiful barn-style greenhouse gives you a year-round growing space in an attractive, heavy duty aluminum frame and 10mm twin-wall panels. Engineered to perform in harshest environments with standard high-strength frame and additional roof truss and snow load supports. The Grandio Elite's rugged durability, makes it the most insulated of the greenhouses on the market and it's barn shape design with an 8' tall roof peak makes it both elegant and functional, and allows plenty of growing space.
---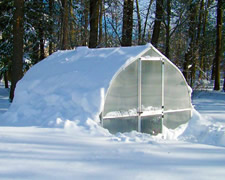 Riga Greenhouses
RIGA series of greenhouse kits are truly a European greenhouse designed to grow in the middle of winter! The RIGA is not just a season extender greenhouse. The unique RIGA design prevents snow build up, allows for maximum inside head room, and minimizes wind resistance. The RIGAs are designed, engineered, and manufactured in Germany from a company with 28 years experience. RIGA's have an amazing 15 year warranty on the frame and 10 years on the panels.
---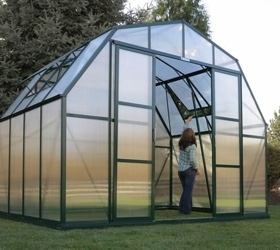 Grandio Summit Greenhouse
The largest of the Grandio models, the Summit is a beautiful barn-style greenhouse that is 12 feet wide, over 9 feet tall, and available in sizes from 12x8 up to 12x32. The Summit greenhouse is perfect for the serious home gardener, for schools and educational instiitutions, or for light commercial applications. Features include an extremely heavy duty aluminum frame with extreme weather / snow load supports, 10mm twin-wall panels all around, lockable doors, multiple included roof vents, and much more!
---